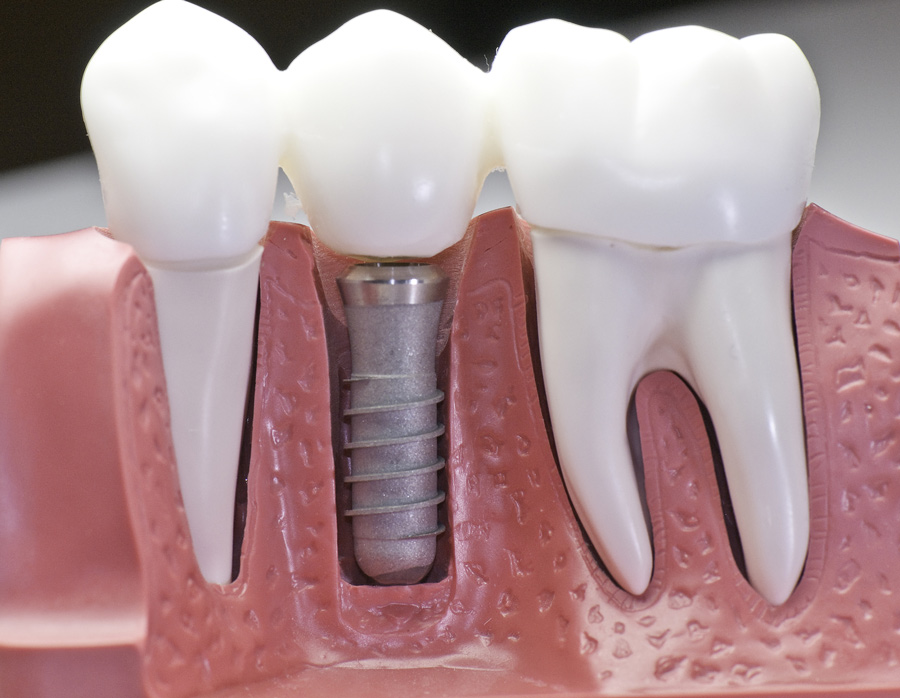 Dental implants are metal studs inserted directly in the jawbone to hold dental prostheses firmly in place. We can also use dental implants to support dental crowns in the case of single teeth replacement, dental bridges in the case of replacing two to three teeth, and prosthetic dentures in case of multiple teeth restoration. Implants are highly recommended by dentists from all around the world owing to the advantages they offer.
Single Tooth Dental Implants
Dental implants are most popularly used to replace single missing teeth. They consist of a metal implant stud with screw-like grooves on its surface and a prosthetic crown made from dental-grade ceramic. They are the closest alternatives to missing natural teeth as they are placed in the jawbone and restore oral functionality completely. 
What Is The Procedure Involved?
When you visit our practice to consult our dentist regarding dental implantation, we will screen your mouth extensively to understand your candidacy for it. Some of the factors we look into are the presence of oral conditions like gum disease, extensive decay of teeth, jawbone deterioration, spacing available for placing the implant, jawbone volume, and size. We also look into your health history as the presence of diabetes, and high blood pressure can adversely affect the procedure.
During the initial surgery, we will administer local anesthesia to numb your oral tissues. The dentist will meticulously make a small hole in your jawbone and insert the implant in it. It will be secured using dental adhesives, and a healing period of four to six months is recommended. You mustn't brush too hard near the implant or eat hard and crunchy foods during this.

Once the implantation site has healed, we will schedule the surgery to place the crown. A connecting element called the abutment would be fixed to the implant. The crown will be attached to the abutment and secured using dental cement. We will take a bite test and make changes to the alignment of the crown if required. The dentist will give suitable aftercare instructions.

What Are The Advantages Of Dental Implants?
Implants are one of the longest-lasting dental restorations.
Implants restore both oral functionality and aesthetics.
Your dentist can customize the appearance of the implant crown  in terms of color, texture, size, and shape to make it look absolutely indistinguishable from the adjoining natural teeth.
Since implants are placed in the jawbone, they are incredibly stable.
The implant crown made from dental-grade ceramic is quite tough and durable.
Implants keep the jawbone from shrinking or deteriorating.
Please schedule a consultation with our highly trained team of dental experts, and we'll guide you further. Please call us at (435) 713-0096 or reach us through online consultation.